J.W. Jones Memorial Award
The J.W. Jones award is awarded every two years to the author(s) of a written paper presented to a Branch technical meeting which best meets the award criteria (available from the Guild).  Among the aims of this award is the encouragement of younger authors, although no age limit is imposed on authorship. The award is made in honour of the eponymous founder of the Guild and its first Chairman, who died in 1971.
This year's winner and paper:
Name: Sophie McPhillips
Title: Driving Innovation in the Water Industry - Click here to download (PDF)
Previous winner and paper:
Name: Laura Mann
Title: Water and Electricity: A Complex Combination - Click here to download (PDF)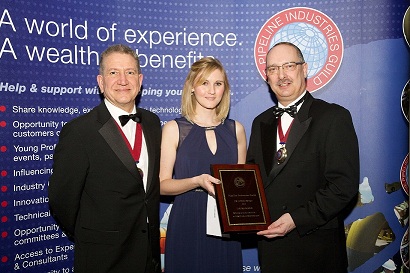 Left to Right: Steve Wayman (Wood Group Kenny and Past President of the Guild), Laura Mann (Wessex Water) and John Ineson (Sweett Group and Past Guild Chairman).